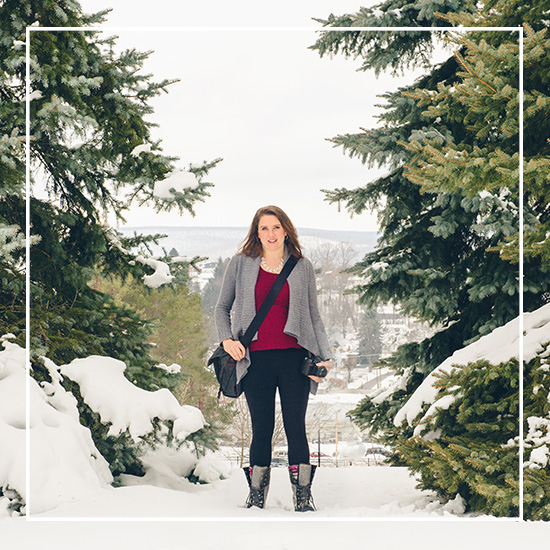 Photography is my heart + passion.  My hand feels most comfortable with a camera in it and I can't stand to watch a beautiful moment go by without taking a photo.
My style is very candid and natural, yet I have a unique artistic flair to my photographs which stems from my classical training as a fine art photographer.
I sincerely enjoy the process of getting to know my clients.  Hearing their history, their current story and learning about the things they think are important.  What I learn is what inspires the art that I create while photographing them.  I believe that photographs should either be breathtakingly beautiful or tell a story.  I prefer both.
I like to watch football, have season tickets to Penn State hockey, am obsessed with cold brew coffee and adore chocolate. I love to run long distances early in the morning before the sun comes up and am currently training for my second marathon.  Oh, did I mention that I like chocolate?

While I have a lot of heart + soul, I also have some pretty sweet creds to back myself up.

I have a Bachelor of Fine Arts degree in Photography from The Pennsylvania State University.  I was accepted as a Special Talent art student and graduated with a membership in the Phi Theta Alpha national honor society.  As a student, I received multiple awards and scholarships from the Arts College.  I am one class short of a double major in Psychology, but I'm not going back to take that last writing course anytime soon.
Because I prefer the look and feel of natural light, I help my clients make the most of the sun.  That said, I am well versed with flash and off camera lighting which is important for receptions and night time portraits.  Whenever I do artificial lighting, my photographs still look as natural as possible.  It's my personal style preference and a strong characteristic of my work.
A huge passion of mine is teaching.  I have taught photography at Penn State University, The Grier School and Mount Aloysius College.   I currently teach workshops independently and you can find out more about those HERE.
Finally, my personal work has been shown in art galleries from State College to San Diego.  Keep an eye on my blog for upcoming shows.

Other Things About Me
I Spend My Days (and often nights) Here  :  I Make Beautiful Things  :  I Like Having the Right Tool for the Job  :  I Love Making People Cry
Now that you know about me, I'd love to hear about you! Click below to start the conversation!