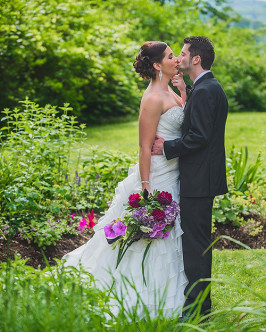 I am based in Altoona and State College, PA, but do travel for weddings.  Our local prices are as follows:
Wedding packages start at $2799, with complete packages beginning at $3099.  All complete packages include full resolution digital photographs of your wedding collection with a personal copyright release.
Family Portrait Sessions begin at $250.
Senior Portrait Sessions are $400.

"The photos are amazing. I cried all the tears I managed to keep under control on the wedding day watching the video. I've watched it many times and I still get misty. The portraits and detail shots are amazing. You and Steve did such a wonderful job. You captured the day so well. I've never felt so pretty as I do when I look at my bridal portraits and the photos of me getting ready. Even [my husband] commented and he doesn't usually say stuff like that! "         – SARAH
"I AM SO CRAZY IN LOVE!!!  You have such an amazing gift!!!  Thank you so much.  Jay and I are so lucky to have had the two of you photograph our wedding.  We love you guys!!!  Our entire experience with you was so amazing and people say our photos look like they were from a bridal magazine!"         – JENNI